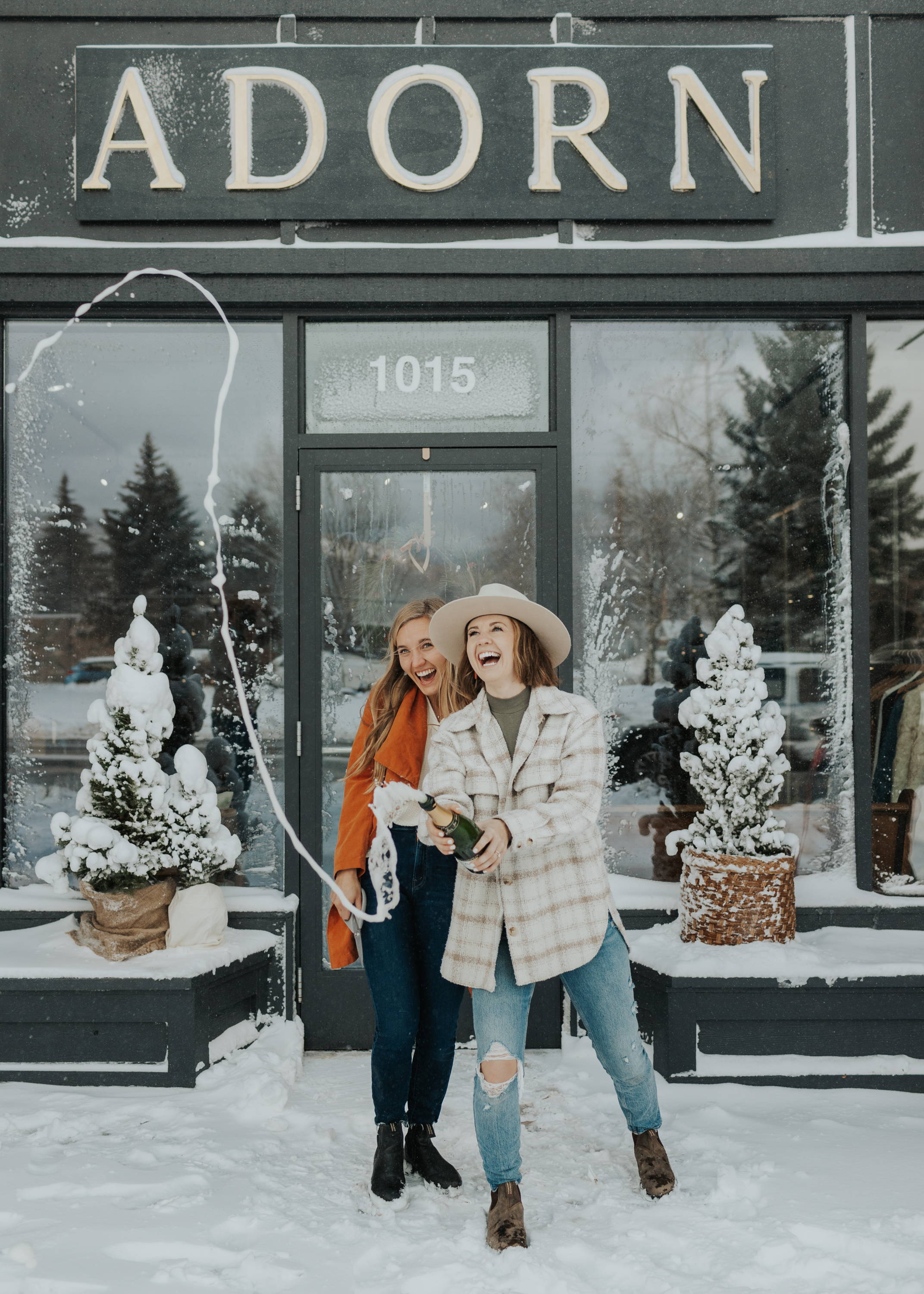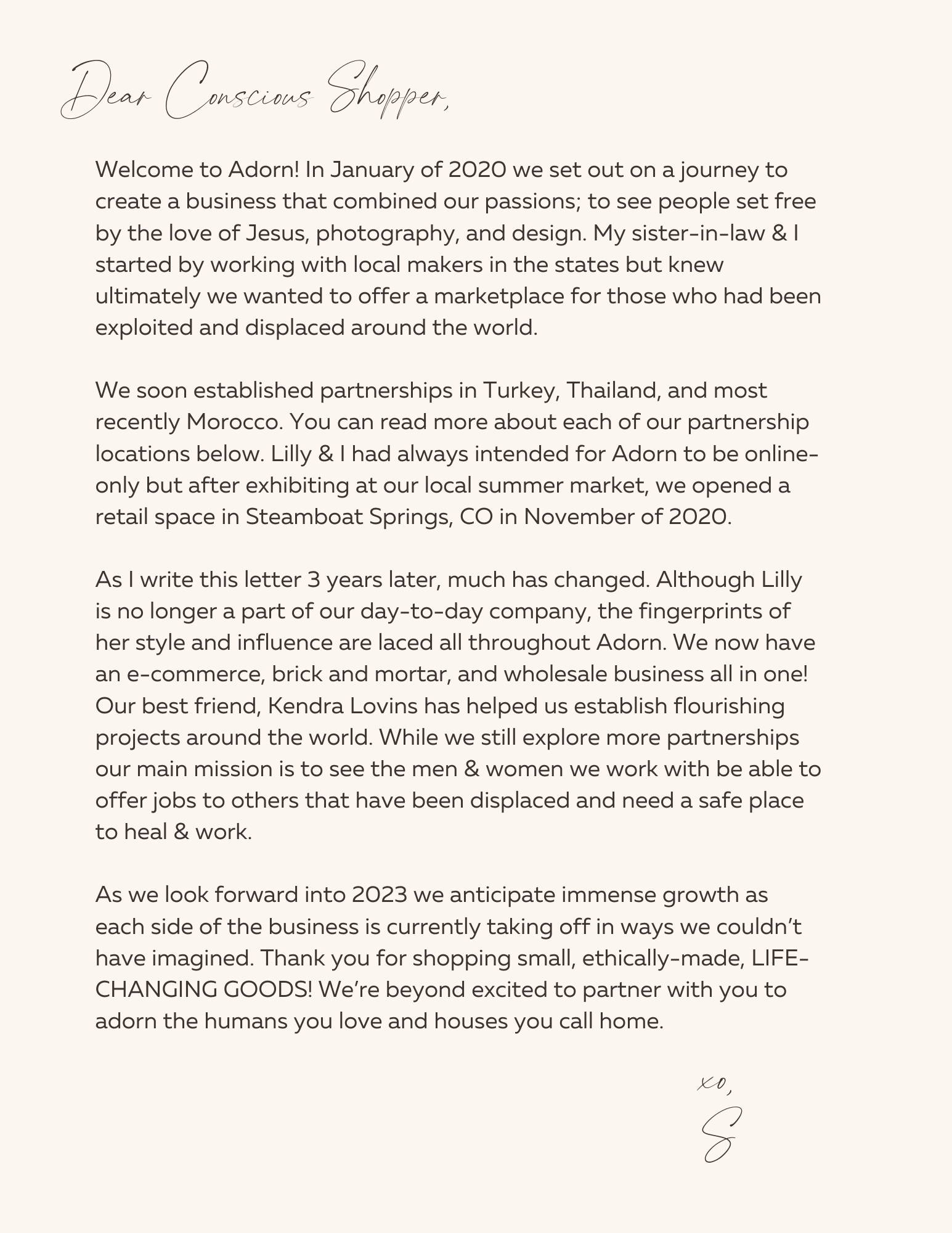 At Adorn, we seek to combat the rising trend toward exploitation of people and natural resources by taking a holistic approach to our partnerships and processes. We believe in caring for the whole person and for the community in which they live. This value applies to all who work with us, both stateside & abroad. For all who are involved with Adorn, we strive to care for the emotional, physical, and financial needs of each person on the supply chain.
This takes expression in a number of ways, but here are a few small ways we seek to care for the whole person through caring for the community in which they live.
When Covid hit the Naomi House, Adorn continued to pay the women, and cover a portion of the medical costs of the women and their families.

Locally, here in Steamboat during the holiday season The Adorn Co. collaborates with non-profits in town to do "We Give Wednesdays," where 10 % of sales from the day goes to supporting local nonprofit organizations.
With all who we work with, we want to support the whole person and engage with the communities in which they (and we!) live.
We want to ensure that all our makers and employees are being paid a wage on which they can not only survive, but truly thrive in their local context.
Many of our makers are rebuilding their lives in countries and contexts that are foregin to their land of origin. We seek to come alongside them in a way that supports rebuilding all aspects of their life. We seek to holistically engage with our partners, understanding their unique needs in each context. Some examples of this include:
Two weeks paid vacation over Christmas for the woman of the Naomi House

A retreat for the women of Naomi House & their families

Covering the costs of a Driver's license for the Syrian men at the Wood shop in Turkey

Sponsoring the daughter of a woodworker to go to kindergarten in Turkey
For our local employees in the shop, we give unlimited paid time off and seek to come alongside and support them in their dreams for the future in a holistic way.
NO WASTED LOCAL RESOURCES
"We can't just consume our way to a more sustainable world." —Jennifer Nini
At the Adorn Co. we value environmental sustainability. We strive to ensure that all resources are being sourced thoughtfully + used intentionally such that waste is mitigated.
We want to be and invite our customers to be 'contributors, not consumers.' When considering a new product design, we ask ourselves how we can create something that yields a contribution to the community in which it was made.
We take care to try to use all the materials that we begin with. A few examples of products + makers that recycle materials or use the remaining bits & bobs of materials include:
Our Naomi House scrunchies— made from the left over fabrics from our pillows, napkins & aprons

Our Olive wood coasters, made from the smaller branches of the olive wood trees
We want to be thoughtful about our environmental impact + invite our customer community to make purchases that contribute something back to our world.
We value fostering authentic relationships and working person to person. This value finds expression in every sphere of our work.
We operate in direct trade, designing in direct collaboration with our makers from Turkey to Thailand to Taos. When building new relationships and forging new partnerships, we begin by learning about local artisan traditionally crafted goods & what local resources are available in the region, then begin the process of creative collaboration with the makers.
When we have the privilege of being with our makers in person, it's not uncommon to see SaRa drawing up spontaneous designs on scrap paper or jumping behind the potter's wheel, laughing along with the artisan as they collaborate and communicate creative ideas through sometimes minimal common language.
We are intentional about who we partner with. We seek to work with makers & ministries who also hold and operate in the value of "person to person," building direct and holistic relationships.
"At the end of the day its not about what you have or even what you've accomplished... It's about who you've lifted up, who you've made better. It's about what you've given back. "
-Denzel Washington
At the Adorn Co., we want to leverage each element of our business & practice to make the world a more equitable, just & beautiful place. We believe the heart of God is generous + our heart is to embody His generosity at every level of operation: for the makers, for the customer, for the employees, for the founders, and for all who engage with this unfolding story, pointing to God's abundance and generosity.
As followers of Jesus, we are called to practice this generous style of living through setting aside a portion of what we make to give back.  
At Adorn, we call this practice The Overflow.
The Overflow sets aside a percentage of profit from every purchase at Adorn to fund dreams & additional needs for our team, to support local nonprofits, and to support people + causes that are making the world a better, more whole, and beautiful place.
We seek to authentically connect with each person who walks in our store + engages with us online. Your satisfaction with both the quality & design of our products is most important. We always want to ensure that we are continuing to create products that you can feel confident about purchasing, knowing they've been ethically sourced & with attention to the best quality & aesthetics.
Ultimately, what we're able to do through Adorn to make the world a more beautiful + equitable place, is only made possible by YOU, our amazing customer community!
YOU are the champion of our story + the fuel to keep us heading towards our mission.
Thank you for your purchases at Adorn + thank you for your contribution to the larger story of making the world a more beautiful place!
Each crafted piece you see in our shop + online store, is a collaborative design. Consciously combining the maker's expertise and the availability of local resources, we create products that adorn the humans you love and the houses you call home.
With every purchase at ADORN, you join a community that relieves poverty, empowers those who have been exploited, and establishes stability for people coming out of desperate situations.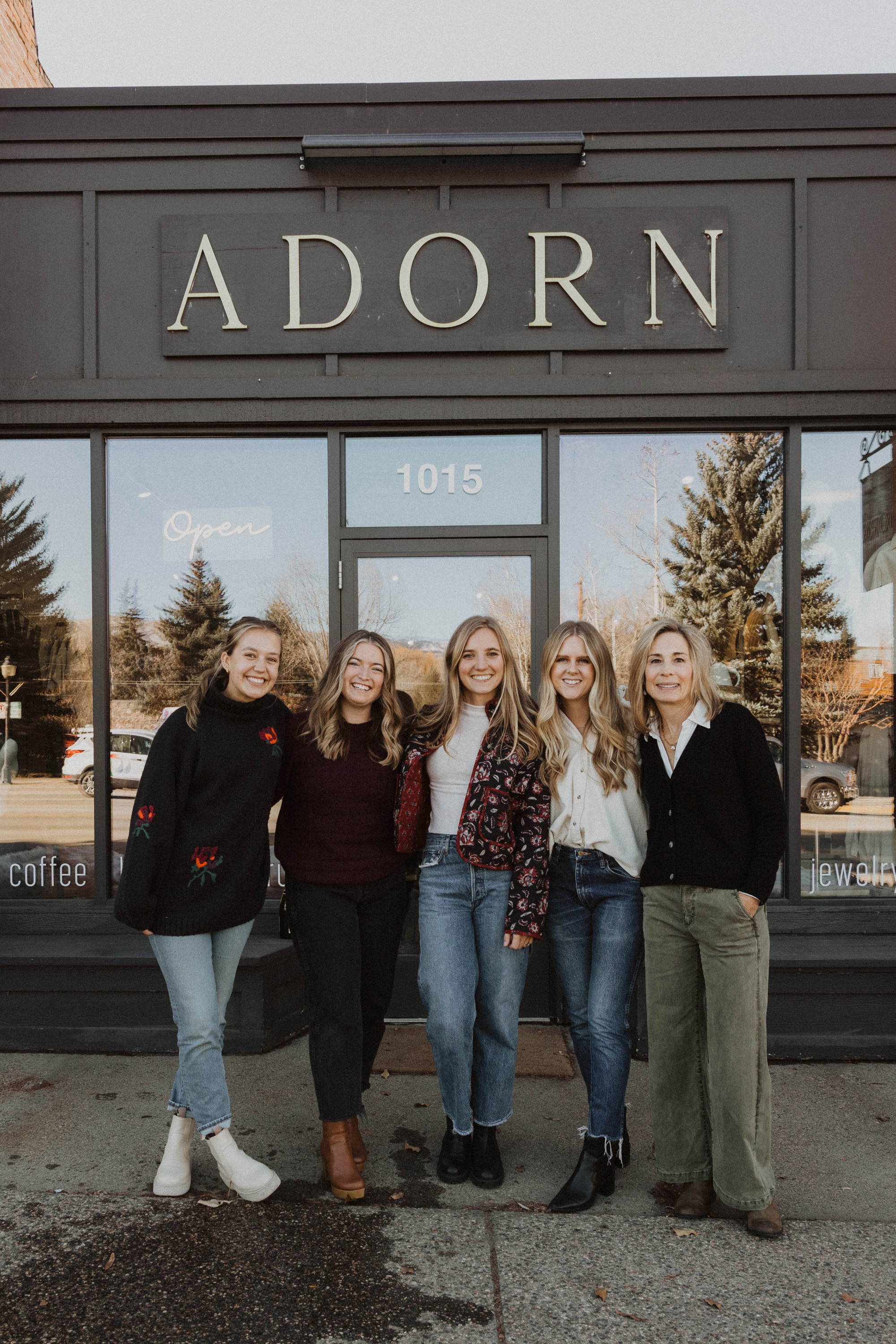 gifts are our love language, sign up & receive!